Tokyo Japanese Steakhouse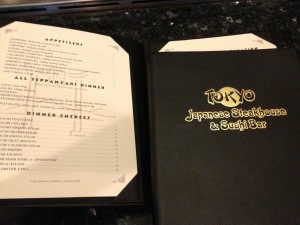 Throughout the course of this May Term class we have went to many restaurants. It is today at the Tokyo Japanese Steakhouse that we encountered our first eating experience and personal chef cooking show. Tokyo is a Hibachi grill establishment; that is, your table also serves as a flat top hibachi grill where your food is prepared, right in front of your eyes. The chefs are all highly trained in the culinary departments, as well as in cooking in such a way as to entertain the customers simultaneously with preparing their food. Below shown on the left is the initial blast of flame that occurs shortly after the chef arrives as he douses the grill with some sort of liquid, as well as on the right a picture of a 'onion volcano' that the chef made on the spot.

Today would mark my first trip to Tokyo, so I decided to try a few different things. For a drink, I ordered a Michelob Ultra (adventurous I know) but also tried some Saki. Saki, as I discovered, is a very traditional alcoholic drink in Mexico, consisting of rice wine and couple other ingredients and is served warm. My beer was delicious and as for the Saki, lets just say it wasn't for me. Below is an image of the drinks.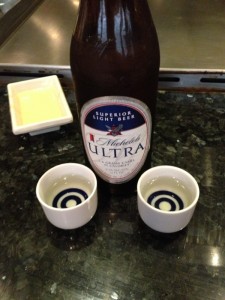 For lunch I decided to order the filet mignon and swordfish combo. As it sounds, I expected it to cost an arm and a leg, however, it was only $16 for the combo. I saved about $7 due to going for lunch, not dinner. When you order a meal such as I did, the first thing you get is your salad.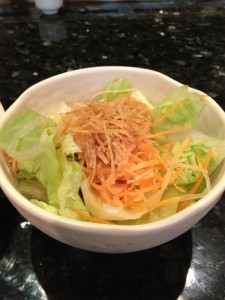 Relatively plain looking, this was not the case when it came to taste. There was no choice of dressing, rather it was served with a ginger based, somewhat sugary, dressing. Topped on the salad were what I call 'crunchies' and some shredded cheese. The lettuce was cold, ver fresh, and crisp. The 'crunchies' added more crisp to the salad, and the cheese added yet another dimension. Combined, these factors made the salad very tasty. Next to arrive was the main course. On the left is the table's food as it was being cooked, on the right pictured is my completed meal on my plate.
The food did not arrive on the plate all at the same time; first to come was the rice. The rice prepared was yellow rice, seared on the hibachi at the table with butter and garlic. This gave the rice an amazing taste of butter and garlic and was very tender. Next to arrive was the filet steak meat. I ordered mine cooked medium and it was seared to perfect medium temperature with a warm pink hint of red center. It too was seasoned lightly to a point that perfectly matched the tender and juicy nature of the filet. This steak was, without a doubt, the most tender piece of meat I have ever tasted. Next was the swordfish. I am not much of a fish guy, but the fact that swordfish was on the menu was too big of an opportunity to match up; how many places have you been to that actually have swordfish?! As it turned out, I was glad I ordered the fish so I can say that I have tried it. That being said, I was not too fond of it. It had a 'fishy' taste, which a lot of people love, but I do not. It was seared in butter and some spice, making it not so much for my own taste buds  but I assume very delicious to people who enjoy fish. Last to arrive, yes, there's more, was the veggies. A micture of brocolli, onions, carrots, and squash, all seared in butter, garlic, and other spices I was unable to identify. This too was extremely delicious, the vegetables were cooked enough to make them soft, yet not too much where they were chewy and overdone.
Overall, my experience at the Tokyo Steakhouse was incredible. Not only was the food amazing it came in vast quantities and beyond the usual dining experience I also got a first hand look at how food is prepared and even got a show while it was happening. The service was perfect, the food was even better, and the environment formed a thread to sew it all together.
Recommendation: This is truly an experience. No, it is not reasonable to eat here everyday. However, everyone should eat there, at least a few times a year. Even with the seemingly expensive price of $16, you really do get an amount of food making it worth your money, not to mention the excellent quality of each portion that is almost impossible to beat in Siouxland, or anywhere else for that matter.