Red Bone's Cafe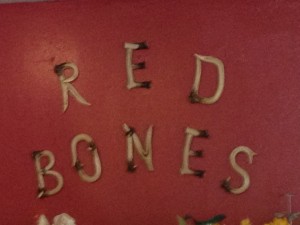 Today I had one of the best meals that I can remember. Ever. The Red Bones Cafe, located on West 7th street, is one of Siouxland's hidden gems. Red Bones offers a true southern menu coming right in the middle of the Sioux City. Let me just say this; if soul food in the southern states is anywhere near as good as Red Bones, I might just start packing my bags.
Though the outside of the restaurant is a little rough around the edges in the looks department, this should not discourage one from going inside. Once inside, I feel that the atmosphere of Red Bones does a good job at matching the food you order.
For my first trip to Red Bones I decided to stick with something familiar for one part of the meal and to try something new for the second half. First up, salad. Though I greatly enjoyed my trip to Red Bones, evidently soul food does not include an especially unique salad. Upon the salad arriving, I found myself with a bowl of lettuce and a side plastic container of ranch. Yes, it was simple and largely mediocre, but it was leading up to bigger and better things.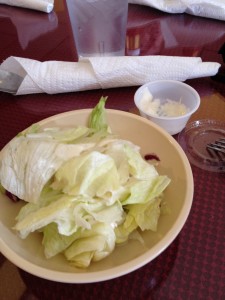 Wings are my all time favorite food. That being said, I have them at almost every opportunity. The wings I ordered at Red Bones were buffalo in flavor, and amazing in taste. They had the fall off the bone feel, combined with a spicy, yet not overwhelming, kick. They were great, and I quickly realized that the six I order were gone all too soon. Along with the wings came a serving of fries and two pieces of toast. The toast I found to a great pairing with the course and was pleasantly surprised when it was in my basket. As for the fries, they were heavily seasoned in a great blend of what seemed to be salt and pure deliciousness. Price:$7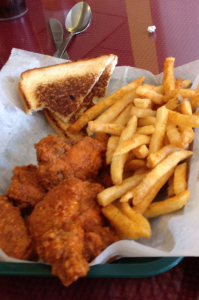 After moving past the salad and the wings, I took on the challenge of the main course. For my main course, I ordered the Cajun Chicken Pasta. I had no idea what to expect, and even if I had, I wouldn't have been able to expect it to be as great as it was. The penne noodles were smothered in a slightly spicy, packed with flavor, alfredo-ish sauce complimented by grilled peppers and onions. On top of this collage of flavor was a reasonably sized serving of grilled chicken sliced into thin pieces. And once again appearing on the outskirts of the plate were those wonderful little pieces of toast. The pasta was great and full of flavor. If there is a down side, it could have been a little more warm. The chicken was grilled for the perfect amount of time, not over done nor was it overcooked and the grilled char mixed with the seasoning was great. Price: $8.75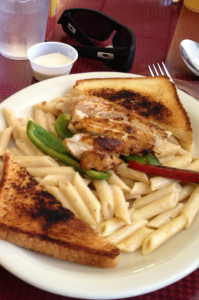 Overall, what would I say about Red Bones Cafe? I would say, how have I never heard of this place?! Immediately putting the blame on the ones I love for all of the money wasted at chain restaurants.
But seriously. The food is great, the service is on point, and the price is reasonable. I very much urge everyone that likes any kind of food to go there the first chance they get, I know i'll be going back very soon!
College Perspective: No Beer, Average Price, Amazing Food
My Recommendation: Go there! Right Now!