Bob Roe's Point After
A few years ago,walking through the front door at The Point After would lead to being faced with a dense, overwhelming, eye-watering wall of smoke. Today, all that remains of the smoke is the somewhat dingy, slightly dark, yet somehow immensely appealing atmosphere and same run of the mill sports, beer, and food Siouxland has grown to know and love.
Usually my Bob Roe's experience does not consist of any thought on what to order, not even a glimpse at the menu, and without thought order pizza and wings. Today, however, in honor of my first food blog I thought that I would branch out and try something new. After perusing the menu, I quickly realized that there were several items on the menu that I have never even seen before. Eventually I decided that I would order the special of the day, the steak sandwich, a draft jar of Michelob Ultra, and even though I tried to resist the usual, six wings.
First and foremost, the beer. It was no Keystone or Bud Light; it was Michelob Ultra. I mention this fact due to even though it is not usual a 'cheap' beer, it ran me only $2.25 for the jar that I ordered, pictured below. The service of the bartender was prompt and friendly, and the taste of the beer was perfect.
Next to arrive for my meal was the six wings. Fried to an overdone perfection, covered with a deliciously greasy buffalo sauce, and paired with Bob Roe's famous sour cream-ranch-blue cheese sauce, they were as always awesome. In fact, I was so hungry and they looked and smelled so good, by the time I remembered to take a picture they were already completely gone. Upon finishing them my hunger was slightly subdued and my happiness from eating them was paired with a guilty conscious of the 'unhealthy-ness' of the appetizer. Price: $6
Last to arrive was my steak 'sandwich'. I put sandwich in quotes because my initial reaction upon it's arrival was confusion. Contrary to most people's view of a sandwich, what arrived was roughly a six ounce steak wrapped in what appeared to be bacon on a single toasted slice of white bread paired with a decent sized serving of fries. Despite my original reservations, I began to eat my meal. The steak, ordered medium, was overcooked to what I would consider to be well done. The seasoning was decent, and the steak was tough to cut and chew. The 'bacon', gave the outside half of the steak a taste of sausage, a fact that confuses me and I have no answer to. Overall, I would rate the $7.75 sandwich reasonably priced and incredibly average at best.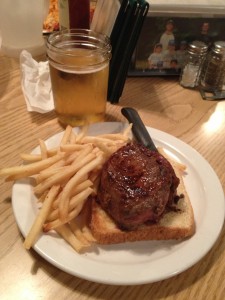 Being a regular at Bob Roe's I have a relative understanding of the service that I will receive when going there. Today, the service was very good. The waitress was friendly and accommodating, a fact that should not be underplayed due to the large size of our party. The food arrived somewhat tardy; a fact to be expected any time that one goes to eat with a party of 20.
Overall, no one experience could deter me from Bob Roe's. For your first visit, I recommend skipping the steak sandwich and sticking with the beer, wings, and pizza that are the specialty of the establishment.
Recommendation: Not to be overlooked; Make it there soon
College Perspective: Cheap cold beer, reasonable priced, great pizza and wings.