As many of you may know, members of the Regina Roth Applied Agricultural and Food Studies Program and the Morningside College Choir and alumni and friends of the college ventured to Japan in May for an 11-day trip. For many students, it was their first time outside of the United States, making the experience both memorable and exciting. There were 33 students, 10 alumni and friends, and six staff and faculty that went on the trip.
They visited five different cities, including Osaka, Hiroshima, Kyoto, Yamanashi, and Tokyo. They left Sioux City at 2:30 a.m. Thursday, May 17. The first flight took off from Omaha, went to Denver, then headed to Los Angeles, and finally ended up in Osaka after an 11-hour plane ride.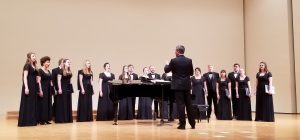 While in Osaka, participants visited Kansai Gaidai University, where the choir performed and students from Morningside College and Kansai Gaidai University mingled. Agriculture students visited an organic farm just outside of Osaka. They learned about the farmer's operation and the importance of producing organic products through his eyes. Everything that he grows and produces he sells through his restaurant on site, which draws a large crowd from the city every day.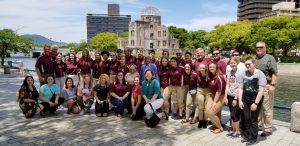 While in Hiroshima, Morningsiders visited Hiroshima Peace Memorial Park and Museum and had the opportunity to visit the monuments, walk through the museum and visit with an atomic bomb survivor who was 8months old when the bomb hit Hiroshima. Everyone was moved and touched by her story of perseverance and the power of forgiveness.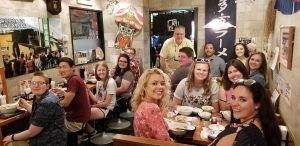 The next stop was Kyoto, where the group saw numerous temples, visited a castle and tried lots of tasty food! Nijo Castle was built in 1603. It was constructed as a demonstration of the shogun's power and prestige to signal the falling of the emperor. In 1994, it was designated as a UNESCO World Heritage Site. Everyone toured the inside of the castle, admiring the artwork that covers the walls and ceilings and experiencing nightingale wood floors, which make chirping noises when people walk on them.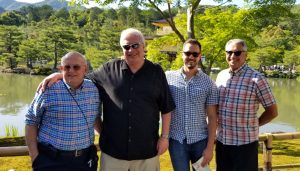 Another stop in Kyoto was the Golden Pavilion Temple. This temple and its location are known for their beauty. It was built in 1397 to serve as a retirement home for the shogun and was later converted into a Zen temple. It is three stories tall, with the top two stories being covered in gold.
In between Kyoto and Yamanashi, the group stopped at St. Stephen's School, a private Catholic school originally for students with disabilities that now accepts all students. This was a memorable and special stop for everyone. The choir performed, then the students of St. Stephen's sang a song, and finally the Morningside College Choir and students of St. Stephen's sang Country Roads by John Denver together. It was very moving.
After the concert, Morningside students, staff and alumni got split into groups. Everyone ate lunch with the St. Stephen's students in their respective group and then got to participate in an activity. Some got to go down to the beach and collect sea glass, others learned how to do origami, and the final group learned Japanese calligraphy all while interacting with St. Stephen's students.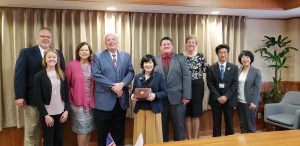 Then in Yamanashi, Morningsiders met with Yamanashi Mayor Haruo Takagi, went to a strawberry farm, visited Yamanashi University, toured an ice cream factory, and met the lieutenant governor of Yamanashi. The strawberry farm grows six different varieties of strawberries and uses crushed coconut imported from Sri Lanka for the soil. The berries were delicious!
At Yamanashi University, the choir participated in a music workshop while other students discussed differences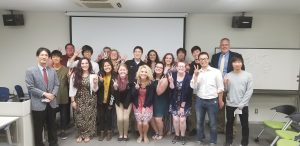 between agriculture in Iowa compared to Yamanashi and learned that organic production agriculture means a lot to the Japanese. They place great importance on being eco-friendly. For example, to keep cooling costs down in the hot summer months, professors at Yamanashi University were growing grape vines along the side of the building. They wanted to see which of the six grape varieties produced the biggest leaves, grew the tallest and provided the most shade for them.
Morningsiders also toured an ice cream factory. They got to see the production line and taste test two of the factory's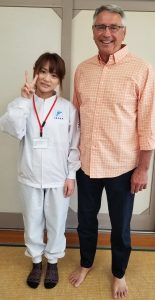 ice cream treats, which were delicious! Ice cream is a popular treat in Japan and can most commonly be purchased in convenience stores and at vending machines. The company, Fuji Foods, sells prepackaged ice cream cones to convenience stores such as FamilyMart.
While in Tokyo, agriculture students visited the Tyson Foods headquarters and the U.S. Meat Export Federation, and everyone visited the Tsukiji Fish Market and the Meiji Shinto Shrine. At Tyson and the U.S. Meat Export Federation, agriculture students learned the importance of the United States and Japan's relationship while also learning how American beef and pork is marketed to the Japanese people. To help convey this picture better, students toured a grocery store where they saw displays for American beef and learned how the cartoon character Gochipo helps market American pork.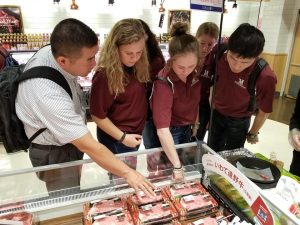 The Tsukiji Fish Market was another popular stop with students, alumni, and faculty alike. It is the largest wholesale fish and seafood market in the world and handles over 2,000 tons of marine products on a daily basis. It consists of both an indoor and outdoor market. The indoor market is where most of the wholesale business and the famous tuna auction takes place daily. The outdoor market consists of retail shops and stores where people are able to sample products and purchase them for themselves.
Students made a stop at the Meiji Shinto Shrine, one of Japan's most popular shrines. It was dedicated to the Emperor Meiji and Empress Shoken in 1920, but later destroyed during World War II. After being destroyed, it was rebuilt and continues to undergo improvements. During the year, traditional Shinto weddings take place at this shrine, and everyone got the opportunity to witness one taking place. Students also had ample time to explore the city.
All in all, students, faculty, staff, alumni and friends of Morningside enjoyed the trip to Japan. From learning about the food and agriculture and tasting plenty of new treats to enjoying the choir performances at various venues and visiting popular tourist attractions, everyone was able to learn and gain something from the experience.