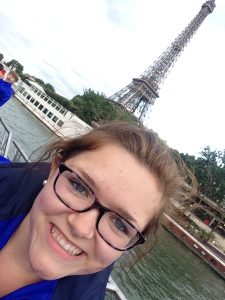 Rachel DeJong is a sophomore at Morningside College from Leota, Minn., with a passion for finance. She feels like Morningside is the perfect place to pursue her passion.
"I feel incredibly blessed to be able to attend a school like Morningside," she said. "I can't imagine getting the same experience at a larger state school."
DeJong is a double major in managerial accounting and business administration, with an emphasis in finance.
When asked what she likes about Morningside, DeJong explained, "My favorite thing about Morningside is how the small classes allow you to get to know other students and faculty in your department. The professors are such a valuable resource and they are all willing to help you find the best way to succeed."
DeJong explained that she chose Morningside because it felt like home from her first visit. "I loved the small campus, small class sizes, and the community feeling among students and faculty," she said.
DeJong is a very active student who takes every opportunity to get involved. Currently, she serves on the leadership team for the Connie Wimer Women's Leadership Program; is in the President's Book Club; participates in Alpha Lambda Delta, a women's honor society; as well as being involved in Accounting Club and the Interdepartmental Honors Program. She also works in the tutoring center, is a Resident Assistant and is a member of the production team in the theatre department.
"I love how much overlap there is in these areas," she said. "Because Morningside is so small, everyone can be involved in several activities and groups, which only serves to enhance the atmosphere of community on campus!"
After graduation, DeJong plans to continue her education to help her achieve her goal of becoming a finance professor.