As I sit at home and watch Chef Guy Fieri tease my taste buds with his descriptions of the best barbeque joints in America, I am left with a hankering for barbeque, unfortunately I live in the Midwest, an area not known for its barbeque. Does this mean I need to travel to find excellent barbeque? Surprisingly, there is a local gem serving great local barbeque in the Midwest, and this local gem is known as The House of Q. The House of Q is known for its friendly family service, reasonable prices and its smoker, which is operated by the owner himself, who you are likely to run into during lunch and dinner visits.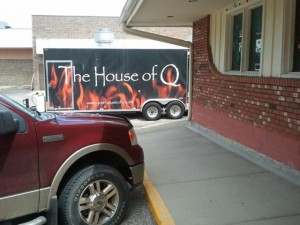 The menu is varied with classics such as brisket, sausage, and pulled pork, with the staple of the restaurant being its famous Heaven on a Bun: a smoked burger topped with cheese, spicy sausage links, and brisket. A massive sandwich such as this must be expensive right? This massive creation, which is large enough to create a gravitational field on its own, is only $7.29! If you're feeling up to it, you can add two additional sides with a drink for a reasonable $11.79! Sides include the unique Mac-N-Cheese Balls, deep fried pickles, deep fried okra, and one of my personal favorites, sweet potato fries! Is your mouth watering yet? Now that you have an understanding of what kind of barbeque The Q serves, the service and atmosphere complete the package. First, many of the employees are part of the family which only adds to the local hospitality one would expect to find in the Midwest; and second, the simple family restaurant layout and stained paper menus accompanied by a 60's playlist featuring The Beatles and The Nashville Teens reminds us of a time of carefree fun and enjoyment. Let's not forget the 110 different bottles of beer The Q has to offer, from foreign lagers and stouts to the known domestics, this place is perfect for a family day out or a college student looking to save money while enjoying a large selection of mind altering substances—alcohol—get your mind out of the gutter!
Critique:
Surprisingly, I've always had a taste for barbeque, even though the Midwest is not known as a barbeque staple. I look to order brisket whenever possible, and The Q did not disappoint. For this meal, I chose the ½ pound brisket sandwich combo accompanied by two sides—Mac-N-Cheese balls and sweet potato fries—along with a Killian's Irish Red.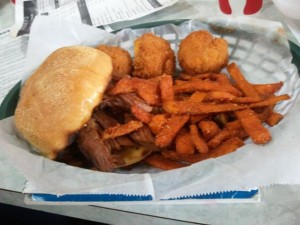 When the basket arrived, in short order I might add, I believed that I was an inmate on death row facing his last meal, a meal that would satisfy a man for the last time. As the sandwich arrived, I was faced with the difficult decision of where to begin! The bun was toasted to perfection, while the brisket was smoky and juicy. The first bite found a beautiful smoke ring, while little mastication was needed for the melt-in-your-mouth tender brisket.  The juices ran down my face while taking on the massive sandwich, and only added a smoky contrast to the salty bite of the sweet potato fries. The sweet potato fries—although they could have had a bit more crunch for my taste—were nicely seasoned and offered a savory contrast to the smoky brisket. The Mac-N-Cheese balls were the epitome of comfort food, a deep fried seasoned crust contrasted with a warm, delicate center filled with macaroni and cheese just like mom used to make! The Mac-N-Cheese balls added a much needed crunch to the meal, while adding that savory element to go along with the smoky richness of the brisket. Now, while I hope I have your taste buds watering for some delicious barbeque, I would recommend The House of Q to anyone looking for a hospitable restaurant serving Midwestern barbeque. Now while the atmosphere isn't anything spectacular, it is unique to The Q. Being a philosophy major, I give The House of Q 3.5/4 wisdom teeth for an overall score!