First impressions can decide whether an outcome is positive or negative. First impressions can mean everything and sometimes they can mean nothing. Red Bones does not give the best first impression when it comes the appearance of the building. When walking by, I would never just randomly walk in and sit down to have a meal. Red Bones is located on West 7th Street in downtown Sioux City. While first expressions can be everything, mine was entirely wrong.
Red Bones was overall a very positive experience, one that I would gladly relive again. Going to the same food establishment more than once would normally bore a person. However, this food network has enough on its menu to keep you wanting to come back for more for many nights to come. The restaurant Red Bones had a lot to offer when it comes to BQQ food.  Their menu includes items like fried chicken, burgers and all sorts of BQQ products.
Red Bones Burger really has no words to describe it. Any adjective thrown in its direction would not do it justice. The Red Bones burger was honestly one of the best burgers that I have ever ordered at a food establishment. The burger was topped smoked sausage strips that gave the burger a little zing and bacon to even the whole thing out.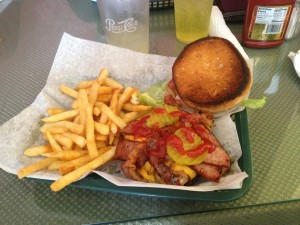 Others around me got food such as Southern Chicken sandwich, Country Fried Chicken, and appetizers that were deep-fried. Normally, if the food is not good there will generally be lots of talking or complaining. At our table of a rather large amount, there was not a whole lot of conversation. This means that the food is good and the stomachs are getting full and satisfied.
Remarkable and astounding would be adjectives I would use to describe the French fries that came as a side with the burger. Even though French fries can be such a minute part of a dinner, this really made the dinner go from good to great in a few bites. The seasoning on them reminded me of a stronger version of Lawry's with a little more Bam!
The environment was the opposite of the food. Dull and uninviting. The scenery did not draw my attention in and the walls were rather boring. The service was very friendly, warming, and welcoming. I felt as though they really wanted us to have a great eating experience for the night. While most servers would be rather annoyed having a large group of teenagers who are obviously here to judge and critic, these servers were there to serve.
If you are looking for something a little different for an afternoon, try Red Bones! You will not be disappointed. This establishment simply proves that you should not judge a book by its cover before reading a few pages first.  Other individuals have described the food as getting deep into their soul and they definitely were not exaggerating. This food can be an overall feeling that will raise my expectations for these types of burgers everywhere.