It's a white box of a building with old dressers, vanities, and couches lining the walls outsides of the front doors. I had driven by it so many times before, but this time I had finally stopped and taken the time to go inside.
As I was walking in no one was there to great me. I think I may have passed the owner outside, two people had been unloading a van with more "antiques."
The signs advertised that this place I had never been before was an antique flea market. I could barely contain my excitement.
It was spacious, that's for sure. The only things separating one makeshift room from the next were sections of metal chain-link fences possibly 10ft tall.
It appeared that each makeshift section was given a number, and these sections are rented out for people to use to sell whatever they want.
Some sections have themes. I remember one section being wholly dedicated to Coca-Cola and NASCAR, and another to what appeared to be hair extensions made from yarn. I wish I was kidding.
Other than the occasional themed parts, a lot of them looked the same. Glass bottles, vintage beer cans, dishware, seasonal/occasional Barbie dolls, records, etc.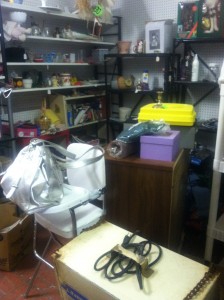 Walking around there seemed to be strategically placed radios. The first one I cam across happened to be playing "Hurts So Good." Only fitting to have "oldies" playing. In this case oldies meaning anything from the early 90's and before.
Later I also heard bits of "Livin' on a Prayer" and "Barracuda."
I began feeling nauseated after breathing in 30mins worth of dust, mothballs, and possibly black mold, so I left. However, not before hearing the owners phone go off. His ringtone sang "I'm sitting at a bar on the inside, waiting for my ride on the outside. She stole my heart, in the trailer park…"
I was gone.