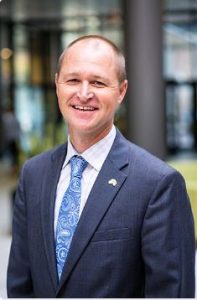 Jason Gehling has quickly become a leader in the Sioux City community since graduating from Morningside College in 2003.
He was even named to the "10 under 40" list of young leaders in the Sioux City community that was published by Siouxland Magazine in 2016.
Gehling is market president and business banking manager for Wells Fargo in Sioux City. He serves as vice president of the Sioux City Public Schools Foundation Board. He also serves on the Siouxland Habitat for Humanity Board and the Sergeant Bluff Little League Board and is an advisory member of the Iowa Small Business Development Center and the Iowa Bankers Association.
Gehling said he loves to stay active in his community and with his family.
"My wife, Cheri (Jorgensen), a 2003 Morningside graduate, and I stay very active with our four kids," Gehling said. "We enjoy boating, camping, baseball, football, basketball and, most recently, archery and sporting clays."
At Morningside, Gehling majored in business administration with an emphasis in marketing. He also was involved in Phi Beta Lambda, an organization that helps students prepare for business careers through relevant career preparation and leadership experiences. He said he had a great experience in college.
"I appreciated the close relationships I was able to develop with the professors and also enjoyed the engagement of the students," he said.
Gehling's advice to young alumni was to find a mentor that will be honest with you and that you trust. His advice to current students was to connect with students and professors on campus.
"Take time to get to know your fellow students. Many of them you will cross paths with later in life," he said. "Do not take the direction and advice from professors lightly. They can provide a condensed version of life's lessons without the calories from mistakes."
The URI to TrackBack this entry is: https://wordpress.morningside.edu/alumninewsletter/2018/04/25/alumni-spotlight-jason-gehling-03/trackback/