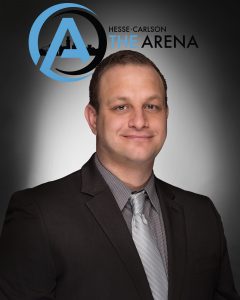 After working as an English teacher and basketball coach in Phoenix, Ariz., Dustin Cooper is happy to be back home in Sioux City.
The 2005 graduate of Morningside College returned to Sioux City in 2015 to teach and coach boys' basketball at his alma mater, East High School. He is married to Gretchen (Wickey), a 2001 Morningside graduate, and they have three children.
In the few short years that he has been back in Sioux City, Cooper has co-founded the We Got Next foundation, which serves Siouxland youth, and HCC Enterprises, the company behind a new Siouxland project, The Arena.
The Arena is a $13.5-million project to build an 80,000 square foot multi-sports complex in the former Sioux City Stockyards that will host sports-specific training, leagues, tournaments and major events. Cooper will serve as executive director of The Arena, which is set to open in the summer of 2019.
At Morningside, Cooper majored in English education, and he was a member of the men's basketball team. He played NCAA Division II, independently during the transition year and then the first year in NAIA Division II.
"I chose Morningside because it was close to home, I knew the academics were second to none, and the basketball program was very strong," he said. "The classes were small and the professors knew me by my first name. From the professors to the administration, everyone wanted to see me be successful and was willing to do whatever they could to see that happen."
After graduating from Morningside, Cooper moved to Arizona and earned a master's degree in administration from Northern Arizona University.
Cooper's advice to students was to take advantage of the experiences that college offers.
"Soak in the phenomenal education being provided to you, but also immerse yourself in the total college experience," he said. "Go to academic seminars and athletic contests. Take advantage of the opportunities that get you out of your comfort zone. When you step off campus with your degree, you will find yourself in a world that is not comfortable at times. Learning how to thrive in these situations now will set you up for success later."
Cooper's advice to young alumni was simple.
"Thank the professors, administrators, coaches and staff that touched your life in a positive way," he said. "Those two words go a long way."
Cooper is grateful for the lasting impact Morningside has had on his life.
"As a former Morningside College student-athlete, I am proud to have been afforded the top-notch education and athletic experience that I did," he said. "I am grateful to all of the professors, administrators and coaches that helped play a role in molding me into the man I am today."
The URI to TrackBack this entry is: https://wordpress.morningside.edu/alumninewsletter/2018/04/18/alumni-spotlight-dustin-cooper-05/trackback/