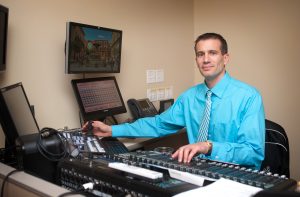 Pete Haack is using his degree in mass communication from Morningside College to work as a video producer for a large healthcare facility in La Crosse, Wis.
He also competes in Masters Track and Field meets throughout the country and coaches sprints for the local high school and for adults in a local track club. He is involved in his church through choir and various committees.
These are some of the same interests he pursued while a student at Morningside.
"I chose to attend Morningside because they have good mass communications and music programs," said the 1996 Morningside graduate. "I also wanted to have a chance to run track."
During college, Haack was involved in the Student Communications Committee, Student Government, Dimmitt Hall Council, KMSC Campus Radio Station, Acacia Fraternity, Morningside Activities Council, Track and Field, Cross Country, Student Life Committee, Concert Chorale and Vietnamese Tutoring Program. He also was a Resident Assistant.
Helping to start the Acacia Fraternity at Morningside is a very special memory for him.
"It was a very talented and motivated group of young men who worked very hard to get the fraternity going," he said. "Having Gene Ambroson as our advisor was a true blessing. He has been a life-long mentor to me and so many others, and I am truly thankful to have had him around during that time in my life."
Haack's advice to current students is to get involved in the community.
"Take advantage of the opportunities to get involved in many different activities that attending a smaller school can offer," he said.
He had similar advice for young alumni.
"Think about ways you can give back to your community and get involved," he said. "You will make it a better place to live for you and your neighbors."
The URI to TrackBack this entry is: https://wordpress.morningside.edu/alumninewsletter/2018/04/11/alumni-spotlight-pete-haack-96/trackback/
on September 6, 2020 at 7:52 AM instagram kaydol Said:

thank you instagram kaydol