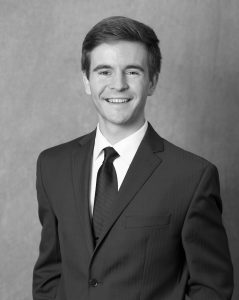 Jackson O'Brien credits his Morningside education for his success in law school and his burgeoning legal career. The tools he developed during his studies in history and political science have placed him at the top of his class at Drake University Law School in Des Moines, Iowa, and secured him an ongoing clerkship with the respected firm Whitfield & Eddy.
"I believe that students considering law school should look to Morningside for comprehensive preparation," O'Brien said.
While at Morningside, O'Brien was heavily involved on campus. Some of his roles included president of Student Government, president of Omicron Delta Kappa, vice president of Phi Mu Alpha Sinfonia, and resident assistant for Residence Life. These activities were in addition to his training in history and political science, which developed his reading, writing and critical thinking skills.
"The expert advising at Morningside helped me shape my career goals and develop a realistic strategy to get there," he said. "These steps included internships at a local law firm, the Woodbury County Courthouse, and in the United States Senate. I learned to organize, work proactively, and seize opportunities through my education."
O'Brien graduated summa cum laude from Morningside in 2016, receiving the award for Outstanding Student in the Humanities in his class, and went on to Drake University Law School.
Currently, he is president of the Drake Law Student Bar Association, member of the National Moot Court Team, production editor on the Drake Law Review, and an executive in student organizations such as Drake Law Women and Drake Association for Child Advocacy. Additionally, O'Brien is a research assistant with Professor Andrew Jurs and a teaching assistant in the legal research and writing program.
This involvement, along with his academic success, has resulted in a clerkship at the Des Moines and Mount Pleasant firm Whitfield & Eddy, where O'Brien works on a variety of legal matters, including litigation, estates, family law, construction, and financial services. O'Brien is now interviewing for a clerkship with federal judges in the region to work in their courts after graduation, with plans to enter private practice in Des Moines afterward.
O'Brien feels strongly that Morningside set him up for success.
"Law school requires students to read copious amounts of complex material, organize their thoughts in persuasive arguments, and communicate their positions in writing," he said. "Moreover, the legal profession often (but not always) necessitates sound presentation skills. Students entering law school, therefore, must be organized, proactive, and motivated."
"I encourage students interested in law school to attend Morningside and take courses that challenge their reading comprehension and writing skills," he continued. "Courses in history, political science, or English will help develop students' organization and attention to detail. Involvement in theatre and the arts will also help students in their presentation skills and give them confidence in themselves. These skills can also be furthered by networking on campus and getting involved in student activities."
O'Brien said he is thankful for his Morningside education every day. Morningside students should feel free to contact O'Brien through Morningside Connect with questions on how to prepare themselves for a career in law.
The URI to TrackBack this entry is: https://wordpress.morningside.edu/alumninewsletter/2018/04/04/alumni-spotlight-jackson-obrien-16/trackback/