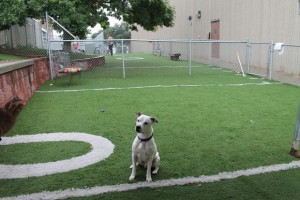 Morningside College's football field was stripped of its old turf and replaced with new turf and a paint job. However, the football and soccer teams aren't the only ones benefiting from the new field.
The college donated the old turf to the Nebraska Humane Society. The NHS will be laying it in their yards so their dogs can get some exercise.
The turf will also help with a drainage problem that led to having muddy pups and dogs. The money the NHS saved by having the turf donated can now be spent on buying medical supplies and caring for their animals.
The URI to TrackBack this entry is: https://wordpress.morningside.edu/alumninewsletter/2015/07/06/football-field-gets-new-turf-old-turf-gets-donated/trackback/