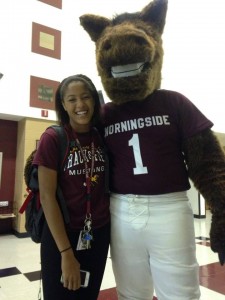 The man behind the mask
While most football players are lacing up their cleats and putting on their helmets getting ready for the game there is one individual getting ready for the game as well…just in a different way.
Sophomore, Austin Langston wakes up for game day like everyone else but instead of joining the fans in the stands you can find him on the track with the cheerleaders as Monte The Mustang.
Austin has been Monte since freshman year and he just seemed like a perfect fit for the job. "I love this college and all the school spirit that we have. Being Monte just seemed like a good way to show my school spirit and also interact with the younger fans."
If you asked anyone on campus they will agree with the statement of Austin being a perfect fit for the job. "Austin is a very outgoing person and its only right for him to be the mascot because he brings this energy to the games that keeps the fans cheering."
 Austin has received a lot of positive and good feedback about the job as Monte the Mustang and even had an interview with The Sioux City Journal about his role as Monte1.
When Austin is not cheering on other sports and spreading school spirit you can find him competing himself as a thrower on the track team.
Austin had the opportunity to travel to Gulf Shores Alabama with some other athletes from the track team to run at the NAIA National Track & Field Championships. He qualified for nationals in discus and was the first person from our school to go to nationals in discus in over 13 years.
In the Monte costume, or in his own jersey for track Austin still manages to keep that upbeat and positive attitude.
 Guess you can say that Austin Langston is a man of many masks and will continue to be a part of Morningside College's fan filled stands for years to come wither its in the Monte costume or in the ring throwing discus.
---
1 http://siouxcityjournal.com/weekender/crowd-pleaser-a-look-at-the-man-behind-the-mascot/article_51da4381-97bc-53b8-b836-0d66b2ae4c9a.html