A seal sustained multiple injuries from plastic waste in the ocean.
Flowerpot was discovered and rescued on a Norfolk beach with its head stuck in a piece of plastic waste left in the ocean.
This was the 51st animal which has been recovered by the RSPCA and taken in for treatment. The charity has said the injuries sustained from this plastic will take months to heal and have caused a considerable amount of pain to the seal (named Flowerpot).
With the use of bone pliers, the RSPCA were successfully able to cut the plastic away from the seals neck and allow freedom. Flowerpot will have to have daily salt baths in order to help heal the deep wound which surrounds the neck area. Flowerpot will also be on antibiotics to ensure a sustainable recovery.
Flowerpot would've been "restricted" in the wild which would've made the seal very easy prey to predators.
The deep cut can be seen below.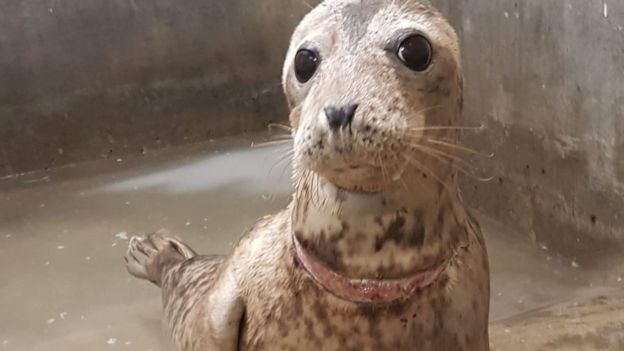 https://www.bbc.com/news/uk-england-norfolk-50167858?intlink_from_url=https://www.bbc.com/news/science_and_environment&link_location=live-reporting-story