Rebos was the chosen place to go and eat today. As a class we unanimously chose Rebos over La Juanitas because I think as a college student some people have La Juanita's late at night pretty often so I don't think we needed to go there. I personally am not a big fan. Upon arriving to Rebos I noticed how there wasn't many people in the restaurant, this changed very quickly. By the time we were leaving there were people standing and waiting for an open seat. This showed me that people must like the place and return for a reason. I saw a couple other tables reserved for some type of get-together. Rebos first reminded me of a Mexican style restaurant; which is true, it does have Mexican food, but you can also order a variety of other food. For appetizers a group of us shared a variety of chips and salsa dip. The chips were made perfect. They had just the right amount of salt and they were thin but not too thin to where it broke off in every dip of salsa. My favorite type of salsa I tried was the pineapple mango salsa.   It was a little different just because it was a fruit and had the sweet taste verse a lot of the other types that were either hot or spicy. I liked to change up my taste buds and go for something different. I forgot to take a picture of this because I think I was just excited to eat it and forgot till it was gone.
For my main meal I ordered the Black and White.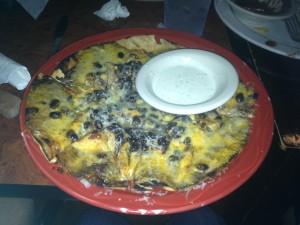 This was a flat-bread pizza with black beans and grilled chicken. I have been to Rebos once before and saw someone order this, and heard it was very good. So upon arriving I knew exactly what I wanted to order. I stuck to my plan and tried something new since it wasn't the typical pizza, and I only at half of it. I tried to convince myself that even though it was a pizza it was still somewhat healthy because it had grilled chicken and black beans on it. I'm not sure how true this was but maybe because I had portion control my theory could hold true maybe a little bit. I do believe I might have ruined this "health" thought because I did order a 7-layered cheesecake. I may have thrown my health kick out the window on this order, but it was a great decision. The cheesecake had chocolate chips in it (not to mention chocolate is my weakness in any form) with caramel and fudge on top.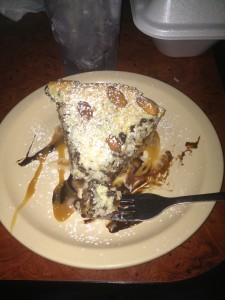 I would advise anyone who has any type of sweet tooth to order one of their two desserts. The other one they offered was Banana Foster; I did not order this but Matt let me try a bite of his and it was delicious. You definitely get a large portion of the ice cream but it's not hard to finish. Overall I think Rebos might be one of my favorites so far if you're looking for a nice place to go eat but yet still casual dining. Every meal I saw you get a good portion of food, so you wont leave hungry.