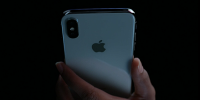 by Christina Vazquez–Tech giant Apple recently announced new versions of their wildly popular iPhone.  While the iPhone 8 is an upgrade from the previous 7 with greater capacity for data and wireless charging enabled, most eyes are on the newest version yet.
The iPhone X, pronounced as 10, brings many new elements to the iPhone design.  These include lack of a home button, which will require longtime iPhone users to adjust to new methods of controlling their device.  There are also new and better camera specs than previous iPhone models, with a telephoto lens on the rear camera with a 2.4 aperture.
What might be raising the most eyebrows about the newest design, however, is the face recognition technology.  At first glance, it seems like a brilliant idea out of science fiction novels to unlock your phone with a mere look, but privacy concerns leave many uncomfortable with the new development.
According to Electronic Frontier Foundation Senior Staff Attorney Adam Schwartz in an interview with Mashable, the facial recognition the newest iPhone has will always be on, gathering data, whether or not the user intends it.  Furthermore, the very fact that a large company has such detailed knowledge of one's face should prompt skepticism.  Shwartz says, "Absolutely people should be concerned.  What else is the company going to be doing with the face [scan]?"
Of course, these concerns hinge on whether or not the application will actually do its job.  During the unveiling of the latest product features, the presenter, Apple's Senior VP of Software Engineering Craig Federighi, was unable to get the feature to work.   After two attempts, Federighi was forced to use a backup in order to continue the presentation.
Meanwhile, loyal Android users are crying foul, claiming that Apple is merely copying designs and features already available in phones such as the Galaxy S8, including wireless charging, facial recognition, and an excellent camera, all for a much lower price tag than the $999 iPhone X.
Is it worth the money, or is Apple merely trying to pull a fast one?  Consumers will make the final decision when the product launches on November 3.