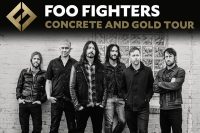 by Sara Alexander–September 15 marks the release of Concrete and Gold, Foo Fighters' ninth studio album since front man Dave Grohl's formation of the band in 1994. The album comes as a follow-up to the band's 2015 EP Saint Cecilia and 2014 concept album Sonic Highways.
Concrete and Gold is bursting with legendary guest artists like Justin Timberlake, Paul McCartney, Shawn Stockman (Boyz II Men), and more. That being said, the album features lots of musical inspiration not normally heard from the band, such as the Hawaiian luau-sounding lullaby of "Happy Ever After (Zero Hour)" to the funky blues-rock groove of "Make It Right," both unexpected yet refreshing.
Inspiration from other genres, including (lots of) psychedelic rock, jazz, punk, pop and Southern rock, can also be heard on the album, as well as the clear influence of artists like The Beatles, Led Zeppelin, Queen, Pink Floyd, Prince, Motörhead, and more.
One of the most unexpected tracks on the album is "Sunday Rain." Grohl takes a backseat while drummer Taylor Hawkins sings lead vocals (surprisingly well). Meanwhile, Paul McCartney lays out a simple drumbeat that could have easily been played by Grohl or any amateur drummer, but I guess it's cool to have a Beatle play on your record.
The song heavily channels The Beatles, as do most songs on the album. Unfortunately, McCartney's feature is not nearly as stellar as expected. It's a nice easy-listening tune; however, clocking in at over six minutes, it could have easily been half the length.
Overall, the album comes with a few instant favorites like "Run," "The Sky Is a Neighborhood," and "Arrows." The rest however caters to diehard Foo lovers looking for something different, and perhaps more experimental, from the band. Casual fans will likely leave wanting more, as the album's sound differs greatly from traditional Foo Fighters, aside from "The Line."
Though it could be said the band is in the plateau stage of their music career, one can't deny the impressiveness of the band (and Grohl's vocal cords) for still cranking out some quality tracks after over 20 years together; most bands peak long before.
The band's Concrete and Gold U.S. tour kicks off October 7 with supporting act The Struts. Nearest dates include Des Moines on November 10 and Sioux Falls on November 11.
An animated short on the making of Concrete and Gold was also released September 15. It can be viewed here.