By Jenni Beaver- We're getting close to finals, and, I don't know about you, but I'm starting to get a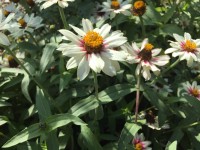 little stressed. I'm remembering all of the notes I didn't take and all of the time I spent on my phone instead with my nose in my textbooks. The tests are looming over me and the projects and lurking in the shadows. I'm starting to wonder if I slept through the past few months worth of classes.
As you're reaching for your sixth cup of coffee, trying to figure out how to find more hours in the day, keep in mind these words said by former President Lyndon B. Johnson…
"Yesterday is not ours to recover, but tomorrow is ours to win or lose."
Stop focusing on what happened last week or last month, stop wishing you could get your wasted hours, minutes, and seconds back. Focus on the finish line that is four weeks away. Focus on the finals you're going to conquer and the summer you'll have to enjoy your victory.
Sip that coffee, read those textbooks, write that essay, and format that PowerPoint… you can do this.
Until tomorrow… stay positive, readers!
~ Jenni B. ~