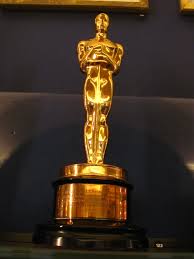 By Derek Krayenhagen–The end of February is fast approaching and that means one thing for movie lovers, The Oscars!
The Oscars is the time for celebrating all the great movies that took place the following year so in this case 2015.  I will be giving out my predictions for the winners of all categories but only going into depth on what I consider the "Big 4″: Best Actress, Best Actor, Best Director, and Best Picture.
Lets just get right to it, the nominees for Best Actress are: Cate Blanchet for Carol, Brie Larson for Room, Jennifer Lawrence for Joy, Charlotte Rampling for 45 Years, and Saoirse Ronan for Brooklyn.
This category honestly doesn't have much star power this year and I think Brie Larson will be the obvious choice. Room was such a powerful and challenging role that I think Brie needed to bring her A-game and  she did, and for that she will be awarded.
Best Actor, the one everyone is keeping their eye on because of the elephant on the red carpet: Leonardo Dicaprio, who has been nominated for six Academy Awards but has not won–yet.This may be his year for his role in The Revenant.
Even though Dicaprio seems to be the best bet the other nominees are: Bryan Cranston for Trumbo, Matt Damon for The Martian, Michael Fassenbender for Steve Jobs, and Eddie Redmayne for The Danish Girl. Leo will be my choice but I would like to point out a spoiler and that spoiler could be Fassenbender for Steve Jobs. He was great and as much as I think Leo Dicaprio deserves an Oscar, I don't know if it is necessarily for this movie.
Best Director, because direction is very important to movies. It is their job to keep things in order and to bring the movie to life. The nominees for Best Director are: Tom McCarthy for Spotlight, Adam McKay for The Big Short, George Miller for Mad Max: Fury Road, Alejandro Gonzales Inarritu for The Revenant, and Lenny Abrahamson for Room. Inarritu seems to be the smart choice because of the buzz around him and The Revenant but against my better judgment I am going with George Miller and Mad Max.
Finally the BIG ONE, Best Picture. This is the category that tops off the night, the one movie buffs care about. There were some great movies this year and this was such a tough category but here are the nominees: Spotlight, The Big Short, The Revenant, Mad Max: Fury Road, The Martian, Bridge of Spies, Brooklyn, and Room.
Many of the experts are leading towards The Revenant. I am leaning towards Spotlight, I think this movie will gain enough traction to pick up the win but honestly I could even see Mad Max pulling this one out.  If I had to go out on a limb my choice would be Spotlight but maybe I'm biased because I'm a communications major, I don't know!
The other categories and my prediction for each are:
Best Supporting Actor – Sylvester Stallone (Creed)
Best Supporting Actress – Kate Winslet (Steve Jobs)
Best Original Screenplay – Spotlight
Best Adapted Screenplay – The Big Short
Best Animated Feature –Inside Out
Best Foreign Language Film – Son of Saul
Best Documentary Feature – Amy
Best Cinematography – The Revenant
Best Film Editing – The Big Short
Best Production Design – Mad Max
Best Costume Design – Mad Max
Best Original Song – Ennio Moricone (Hateful 8)
Best Original Song – Earned It (Fifty Shades of Grey)
Best Visual Effects – Star Wars: The Force Awakens
Best Makeup and Hairstyling – Mad Max
Best Sound Mixing – The Revenant
Best Sound Editing – The Revenant
There is still the short film category stuff but I'm not familiar with that category so I don't to pull an opinion out of thin air.
There you have it, the Oscar predictions from me, just a normal movie lover! If you love movies and want to see who takes home some of Hollywood's most prestigious hardware tune into the Oscars at 6 pm on ABC, February 28th.