By Michelle Kuester–
Judy Ford is not a "typical" student at Morningside. She is triple majoring in mass communication (with an emphasis on New Media), graphic design, and photography. She has also done a lot of things that most people will never get the opportunity to do. Her life has been far from ordinary which makes this student a fun person to talk to and get to know.
Originally from Tennessee, Ford has lived in eight states. Prior to living in Iowa, she lived in Georgia.  The reason she has lived in so many states is that she and her husband of eight years were in the military. While in the military, she learned Arabic.
For the past three years, Ford has been involved with roller derby. Roller derby is a sport that involves five players on each team, four blockers and one jammer. The jammer scores the points while the opposing blockers try to prevent that from happening. Since hurting her wrist, Judy is a referee for the Sioux Falls Roller Dollz. Her derby name is Femme Brulee.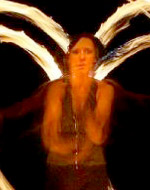 "There aren't a lot of athletic opportunities for females post –college," said Ford. The official website for the Sioux Falls Roller Dollz is www.rollerdollz.com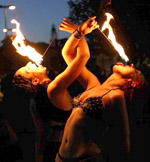 Ford is also involved with a fire performing group known as Pyrotic. They do all kinds of stunts such as dancing with fire and even eating fire.
"I enjoy the rush of adrenaline that comes with working with fire," said Ford.
Prior to attending Morningside College, Ford went to the University of South Alabama and Pike's Peak Community College. She, along with nine other Morningside students, recently attended a photography conference in Las Vegas. Ford also recently took first place in the Morningside Student Art Show with her collection of six photographs taken at the ruins of Six Flags in New Orleans.
Ford used to work for the Sioux City Journal. She was the ad placement coordinator, the "lay-out girl" as Ford put it. However, she no longer works there and has hopes of someday starting her own business.
"I want to do my own photography, web-design stuff. I want to be my own boss," said Ford.