The history of Iowa came to Morningside College via Bus-eum Tour by Traces.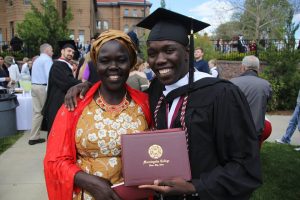 Paul Johnson, a 2016 graduate from Nigeria, says that he will remember everything about his Morningside experience.
"The last four years have been so special for me, and I absolutely love this college so the memories will stay with me forever. I remember the fun in classes, broadcasting sports games, the friendships made. The highs and lows of being a college student will always stay with me."
The close-knit family feel of Morningside was something he enjoyed. He reminisces on cheering at sports games with friends or social time in the café. The feeling that people cared made Morningside special to him.
Johnson was crowned Morningside College Homecoming King 2015. He believes that the tradition of a Homecoming Court is a good one. He describes being crowned as an incredible feeling.
"It was special for me because I did not expect it. I did not campaign or tell anyone to vote for me. So for my peers to think highly enough of me for that position was what made it special."
Johnson believes that Homecoming fosters an important connection with the college and alumni.
"The college realizes that, and that is why it puts a lot of effort into its alumni relations. Homecoming is great time for the alumni to [return and] see what has changed and [how] the college has grown since they've been gone."

Here's this month's trivia question: In what year was Eppley Auditorium built?
Leave your answer below in the comment section. At the end of the month if your answer is correct, we will be in contact with you through the e-mail address you leave (an e-mail address is required to be able to post a comment and only we can see it). Be sure to use an e-mail address you check so we are able to find out where to send your prize! The correct answer will be posted in the next newsletter along with the winners.