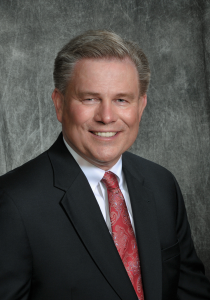 Dennis Reyman uses the skills and knowledge he gained while at Morningside as a partner at Stalcup Agricultural Service in Storm Lake, Iowa.
"I am involved in farm management around Northwest Iowa, farm real estate appraisal, and farm real estate sales," said the 1992 Morningside graduate.
Reyman additionally has served as the past president of the Iowa Chapter of American Society of Farm Managers and Rural Appraisers (ASFMRA), as well as serving as the co-chairman on the national Government Relations Committee of ASFMRA for the past 10 years.
During his time at Morningside, Reyman was a non-traditional student that majored in business and economics.
"I chose Morningside due to the close proximity and familiarity of campus," he said. "Quality education and professors also sold it for me. Additionally, the focus on good writing skills impressed me."
During college, Reyman stayed busy with classes and participated in the interdepartmental honors program.
Reyman reflected on his time at Morningside and noted one of his favorite things about the campus.
"My favorite thing about my college experience was the friendly and interesting people I met along with the quality classes and interested professors."
Reyman's advice to current students was to learn to utilize the time given to them.
"The sooner you learn to maximize your minutes, the more you can participate, and the more you'll be prepared to lead."
Reyman's advice to young alumni was to network.
"Network every which way. You never know how life's experiences will intertwine with the future. Additionally, always stay positive."
Reyman is grateful for the lasting impact Morningside has had on his life.
"I am proud of my Morningside education and very proud of the college's accomplishments in recent years."

The URI to TrackBack this entry is: http://wordpress.morningside.edu/alumninewsletter/2018/03/20/alumni-spotlight-dennis-reyman-92/trackback/
on March 23, 2018 at 10:29 PM Bruce Kolbe Said:

Congratulations Denny! Great article.

on March 24, 2018 at 10:17 AM Edward Sibley Said:

Dennis Reyman,

Were you one of my students in the Ag-Bus program at WITCC
many years ago?

Ed Sibley

on March 24, 2018 at 12:56 PM Mike Freeman Said:

Dennis,

Very nice feature on you. Thanks for participating in the spotlight.

See you soon.
Mike

on April 12, 2018 at 3:32 PM web page Said:

Sites we Like…

[…] Every once in a while we choose blogs that we read. Listed below are the latest sites that we choose […]…

on April 18, 2018 at 11:45 PM learn more Said:

Sites we Like…

[…] Every once in a while we choose blogs that we read. Listed below are the latest sites that we choose […]…

on April 21, 2018 at 6:07 AM http://maxinebriggs.soup.io/post/649092905/Turning-Your-Invention-Dream-into-a-Reality Said:

Links

[…]Sites of interest we have a link to[…]…

on April 22, 2018 at 7:18 AM Eliza Tyas Said:

Congratulation!