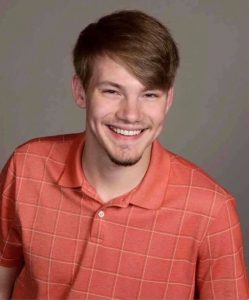 Brock Bourek has always had a passion for theatre and the arts that led him to Morningside College. He is currently a junior with a double major in arts administration and theatre and a minor in religious studies.
When asked why he chose Morningside, Bourek's answer was simple. He explained that he loved the theatre department as well as the beautiful campus. Bourek said, "I felt at home."
Bourek said he loves the small campus size, how friendly everyone is and the endless opportunities that are available to get involved on campus.
Bourek doesn't pass up any opportunity that comes his way to get involved on campus. He currently participates in the theatre department, College Choir, Phi Mu Alpha Sinfonia, a music fraternity, Alpha Psi Omega, a theatre honor society, and Brockapella, an acapella group that Bourek started two years ago. Additionally, he is a member of Residence Life working as a Resident Assistant. He stated, "I appreciate that there are endless opportunities for all students to be involved on campus regardless of their background or experience."
After graduation, Bourek plans to move to a larger city and do some form of professional theatre. He said, "Eventually down the line, I would like to open and run my own theatre company."

The URI to TrackBack this entry is: http://wordpress.morningside.edu/alumninewsletter/2018/02/01/student-spotlight-brock-bourek/trackback/
on February 4, 2018 at 6:51 PM Russell Movall Said:

I am fairly certain that you were one of the fellas that helped me last Monday, Jan. 29, when I slipped and fell on the ice in front of Business and Accounting Dept. A big SHOUT OUT of THANKS to you for your help. I was so fortunate that you were there, and that I have not had any other injuries from my fall.
I wish you continued success in your education and pursuits in the theatre area.