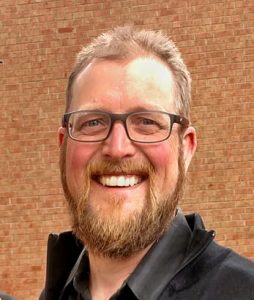 Chad Heggen is a 1993 graduate from Morningside College with a love for art. He graduated with a Bachelor of Science in Graphic Art major, with minors in Photography and Mass Communications.
Heggen chose Morningside for many reasons. He stated that he like the small campus and school feel. Additionally, he loved the art department and said that a college that had a good ceramics room was high on his list when choosing colleges. Heggen explained that he also had a great recruiter.
When asked what his favorite thing about Morningside was during his time on campus, Heggen stated that it was, "The ability to be involved in so many things and everyone was so supportive and willing to help. I met many people, both students and professors, that had a positive influence on who I am today."
During his college career, Heggen was very involved, participating in Delta Sigma Phi, Creative Edge/Ad Club,taking photographs for the newspaper and yearbook, working as the camera operator and technical director on the nightly MCTV news, and being a football cheerleader. Additionally, he worked in Morningside Graphic Services.
Heggen's advice for current students was to get involved in activities. He stated, "Get involved in activities. They will help you form a direction in which to go. They also introduce you to people that can help place you in a field." Additionally, he stated it is important for students to read and form their own conclusions on matters and plan on learning for the rest of their lives.
His advice for young alumni was to, "Keep in touch with your dreams; you still have time to reach them."
Currently, Heggen's work can be found hanging at the Blanden Memorial Art Museum and at the Clear Lake Art Center. Additionally, he has a website, http://chadheggen.zenfolio.com, that includes his work which he updates often.

The URI to TrackBack this entry is: http://wordpress.morningside.edu/alumninewsletter/2017/11/09/alumni-spotlight-chad-heggen/trackback/
on November 10, 2017 at 7:19 PM Randee Small Said:

During Chad's first year at Morningside, he helped put a Chiefs football uniform on the Tires, Tires, Tires tire man. That was an experience to say the least. It was great to work with Chad and now to see all of the amazing art he is producing.

on February 14, 2018 at 1:59 PM Clark Hobbs Said:

Good bio!

http://www.restodonte.com.br/artigos/quatro-receitas-de-suco-verde-para-desinchar

on July 12, 2018 at 7:37 AM www.reddit.com/r/Pollowers/ Said:

Your website traffic is poor and you hate it, but don't know what to do about it, a simple approach on traffic generation is explained in this article. This technique is proven to increase your website traffic and many are not using it right now.A website is a critical factor for any business.