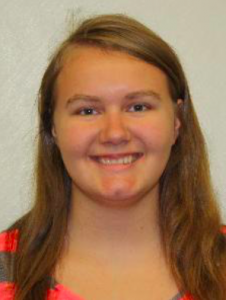 This month's Student Spotlight is Rachael Arnts. Arnts is a senior mass communications major and agricultural studies minor with a language arts cluster from Alta, Iowa.
Arnts chose Morningside for many reasons including its proximity to her hometown and the small community feel that Morningside gives. Additionally, she knew the great reputation Morningside holds and stated that many of her cousins have graduated from Morningside and are very successful in their careers. This made her want to check Morningside out and is one reason she eventually chose to attend.
Arnts stated, "I like how even though it's a small school, there are plenty of opportunities for students to get involved. I really like the fact that my professors know me by name and take the time to get to know each student personally."
Since her freshman year on campus, Arnts has taken every opportunity to get involved and be active in campus activities. Currently, she is involved in numerous activities, which include Alpha Lambda Delta, the freshman women's honor society; Omicron Delta Kappa, the leadership honor society; Sigma Tau Delta, the English honor society; Alpha Epsilon Rho, the mass communications honor society; Agriculture Club; Campus Ministries; and NextGen College Student Leaders at Sunnybrook Community Church.
She loves being involved in the campus community and all the various activities and honor societies. Arnts stated, "My favorite thing about being in these organizations is that I get to meet new groups of people and form new friendships and networking opportunities."
Arnts believes that all of these college activities have impacted her and have helped her to network and gain valuable leadership skills that she will use for the rest of her life.
Not only does she participate in these organizations, she also has taken on various leadership roles. She is the fundraising chair of Sigma Tau Delta, helping develop and plan fundraisers for the group. Additionally, she is serving as the Ag Club president and previously served as the club's reporter. Arnts has also co-led Bible Studies on campus through NextGen.
After graduation, Arnts would like to get a job that incorporates both mass communications and agriculture and stay in the Midwest. She indicated that she would like to be either a writer that covers agriculture or work in public relations for an agriculture company.

The URI to TrackBack this entry is: http://wordpress.morningside.edu/alumninewsletter/2017/10/24/student-spotlight-rachael-arnts/trackback/