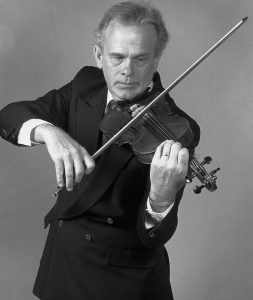 Don Ambroson has always had a life-long passion for the fine arts and music. This passion led him to Morningside College, where he graduated with a Bachelor of Music Education in 1966. He later went on to get his Masters Degree from Claremont Graduate University in Violin Performance in 1972, followed by his Doctorate Degree of Musical Arts in Violin Performance from the University of Southern California in 1977.
Ambroson found his way to Morningside through Leo Kucinski. During just his sophomore year of high school, Ambroson, who attended Central High School in Sioux City, auditioned for Kucinski and was accepted as a pre-college violin student at Morningside College. Throughout Leo's time at Morningside, Leo was Ambroson's advisor and violin professor. Ambroson's favorite thing about Morningside was that there was an active music department. During his time on campus, he spent most of his time in the practice rooms on the 3rd floor of Charles City, which was the music conservatory at the time. Additionally, he played in the Morningside College Chamber Orchestra, the Sioux City Symphony and the Sioux Falls Symphony. When he wasn't practicing or playing music, he was in the coffee shop talking to friends or opposing the war in Vietnam.
Throughout his years, Ambroson has taught at many different colleges and universities around the country. During his senior year of college, he started his teaching career teaching violin at Briar Cliff College (now University). After graduation, he taught in the Sioux Falls, South Dakota Public School System and part-time at Briar Cliff simultaneously.  By 1967, Ambroson was teaching at Briar Cliff full-time. In the summer of 1968, Don got the chance to play in the American Symphony Orchestra League's conductor's workshop in California. After that, he went to Augustana College where he taught from 1968-1970. He left there in 1970, as his two-year contract expired.
He followed this by going to Claremont Graduate University to get his Masters Degree then to the University of Southern California to get his Doctorate of Musical Arts in Violin Performance, which he received in 1977. After this, Ambroson taught at the California State University, Pomona until his retirement in 2004. During his time as a professor there, he was the Artist in Residence at California State Fullerton from 1989-1990. After his retirement in 2004, he continued to teach part-time.
His advice for current students? "Use your creative mind to find a way in which you can get the most out of what is available at Morningside and the Morningside sphere of influence." Ambroson gave an example stating that he made a list of all the repertoire he covered between all the various orchestras and bands he played in over the years. By the time he left the Midwest in 1970 for graduate school, Ambroson had acquired 500-600 different pieces he had learned playing in orchestras in the area. He believes this experience helped him in violin performance and music history and literature courses when he went on to graduate school. Although that specific opportunity may not be available to students now, Don stated that "it is important to look at your environment and all that is given to you and use it to your advantage".
Behind the Music: Don's perspective
As you are probably    aware, Morningside College recently announced a re-prioritization plan developed by the board of directors, faculty and staff. This plan is designed to help control costs and make certain that the academic programs offered align with student demand. One of the majors that will be phased out from this prioritization plan is the Bachelor of Music Performance degree. Don Ambroson, a 1966 alumni from Morningside College who graduated in Music Education, had a few thoughts regarding the new plan.
Ambroson strongly believes that the new plan is a good change for the college. He stated, "At first blush, I suspect that many might think that that inherent in this decision was a reduction in the commitment to having a strong music program at Morningside College."  However, Ambroson believes that the plan is the best effort to make use of the personnel, and resources at Morningside College and will benefit the community as a whole. Additionally, he noted that what worked during his time here at Morningside, is not what will work now and it is important to make changes.
Ambroson has experience with the changes various colleges and universities face from his time as a department chair. He stated that, "Change is difficult for many to accept, but there comes a time where you absolutely must change or you will perish."
The Music Performance major that is to be eliminated at Morningside College, has seen very small numbers in terms of size and graduated very few students in that major. Ambroson noted that when he was a freshman in 1962, his advisor Leo Kucinski told Ambroson that he should not pursue a Music Performance major because it was not realistic. Ambroson vividly remembers what Kucinski told him stating, "He said to me, 'Young man, you need to take the Bachelor of Music Education degree. Taking the Bachelor of Music Performance degree is financially unwise because in order to make a living in music these days (keep in mind, he said this to me in 1962) one needs to be able to have the credentials to teach in public schools. Employment and money making opportunities may not be sufficient to pay your bills. Now, in order to have the benefits of the Bachelor of Music Performance program, simply take the additional courses required for the BM degree as you complete the BME degree.'" Ambroson took Kucinski's advice and did just that. It turns out Kucinski's advice to Ambroson was extremely helpful and his Music Education major took him further than a degree in Music Performance ever would.
Don noted that this new plan doesn't mean the end of performing arts at Morningside. He stated that instead resources are simply being used in a better manner within the music department and giving students the proper tools needed to succeed.
His advice to fellow alumni on the future of the college was simple. He believes it is important for alumni to honor their beginnings and go back and help in any way possible.  Ambroson stated, "I try to do everything thing I can do advance (Morningside's) cause because it is worthy. Small colleges and universities like Morningside need the support of alumni to help secure their future."
Ambroson stated, "For me, it is important to acknowledge the successes I have experienced in my career. If it weren't for Morningside College, the specific guidance of Leo Kucinski, and a few other faculty, I wouldn't have been comfortable doing what I'm doing now."
Overall, the new plan is about redirecting the college's resources and getting out in front of change. Morningside College is making these changes from a position of financial strength, not weakness. This new plan is designed to invest in Morningside College so it can continue to evolve and thrive in the years ahead. Ambroson stated, "I have nothing but total support for the effort."

The URI to TrackBack this entry is: http://wordpress.morningside.edu/alumninewsletter/2017/10/19/alumni-spotlight-don-ambroson-66/trackback/