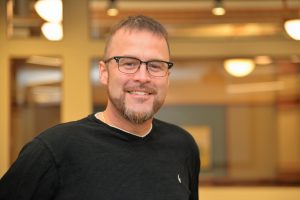 Patrick J. Murphy ('97) learned at a young age that knowledge is power and that one should not only be intrigued by big unanswered questions, but also be wary of big unquestioned answers. This orientation inspired a life-long passion for scholarship, exploration, travel, and more that aligned with his Morningside College experience.
He attended Morningside after moving to Iowa from Washington state. "I visited campus and recognized a passion for learning and a love of the institution among students and professors," said Murphy.
He recalls his experience as academically intense and socially-minded undergraduate education with strong roots in the traditional liberal arts.
Murphy majored in organizational psychology, which in the 1990s was a very rare major in undergraduate programs. Morningside College was one of only a handful of institutions in the country to offer one.
After graduating from Morningside in 1997 with a degree in organizational psychology and business administration, Murphy was admitted to the organizational and human factors psychology doctoral program at Wright State University in Dayton, Ohio and spent four months in Beijing, China as a foreign student. In 2000-2001 he was Organizational Development Specialist at Schneider Electric's US headquarters in Palatine, Illinois. Unable to resist his passion for scholarship, he returned to academia and finished his doctorate in 2004 in the College of Business at the University of Illinois-Chicago.
Murphy joined the faculty of the College of Business at DePaul University in 2003-2004. He was promoted to associate professor in 2010 and to full professor in 2013 – the youngest in the business school to achieve the rank. He has been the recipient of multiple DePaul teaching awards and has taught thousands of students and advised hundreds of entrepreneurial ventures. Based on original research, he authored a 300-page scholarly book with a colleague entitled Mutiny and Its Bounty. It examines the phenomenon of mutiny in today's entrepreneurial ventures by mining 500-year old logbooks and journals from seafaring ventures during the Age of Discovery. It was published by Yale University Press in 2013.
In 2016, Murphy was named as one of ChicagoInno's "50 on Fire" in the education category for his impact on the Chicago innovation economy. In 2017, Future Founders selected him as "Entrepreneurship Professor of the Year" from across eleven Illinois colleges and universities.
He has published over 25 peer-reviewed articles in top scholarly journals and he has lectured about entrepreneurship and related topics around the world. He serves as editor at the scholarly journal Management Decision and is President of the Board of Directors of the Chicago Cultural Alliance. He is former Chair of the Management History Division of the Academy of Management.
"The best part of being a Morningsider was the transformational quality of the undergraduate education I received here. It stuck with me. It is a foundation for almost everything I've done," said Murphy. "Very few people receive an undergraduate education that is so personalized. For example, one time I asked the President's office to fund my travel to a major research conference in St. Louis. I was not presenting there; I just wanted to go and observe. I was the only undergraduate student attendee. I roamed the conference by myself for four days and sat in research presentations for many hours. Morningside supported me when I made these kinds of unique requests for my own development. It meant a lot to me.
Whereas Murphy has not been back on campus in years, he keeps in touch with his professors and stays abreast of how Morningside is growing and changing. This fall he will be Morningside's Entrepreneur in Residence and is currently on campus.

The URI to TrackBack this entry is: http://wordpress.morningside.edu/alumninewsletter/2017/10/10/alumni-spotlight-patrick-murphy/trackback/
on October 13, 2017 at 8:49 PM W Patrick Murphy Said:

Great to hear about this young man and his accomplishments.

on October 14, 2017 at 9:56 AM Kris O'Clair PhD '73 Said:

Wonderful example of Morningside's mantra of "life-long learner." Thank you for informing us of his work.

on October 16, 2017 at 11:10 AM Keith Jones Said:

It's amazing how much you have accomplished, Patrick! I share your appreciation for what the Morningside experience did to change my future for the better!

Keith Jones '92

on October 19, 2017 at 6:58 AM spin rewriter 8.0 Said:

Spin Rewriter 8.0 completely changed my mind about post turning applications.

I've tried virtually every one that's come out there (badly) and wound up just rewriting posts
myself since each product basically made me
do this anyway. When I tried Spin Rewriter 8.0, I was a little hesitant as I
am utilized to each item always using a huge hype with a lot of
testimonials from people I've never heard
of. With SR 4, my head has been changed, and I had been stunned at how easy the
program was to work with, but in addition it focused on appropriate language and grammar.

With articles you see online, it's apparent it's spun as it sounds like something
off and automated the railings wrote it.
With Spin Rewriter 8.0, it truly can sound real with quality writing.

Unlike the others it's worth that little bit of
work, although you have to put a little effort into it for the best results, of course.

I can't wait to see what changes are created for 8.0!

I love EVERYTHING!!!! Spin Rewriter 8.0 is quite simple to use, and the caliber is the very best available on the market…
PERIOD!!! If you are new to advertising, you know that
articles is a significant cornerstone. We use to spend tens of thousands of dollars using content developed.
The best part is we did not have to sacrifice quality in order to raise production.

Spin Rewriter 8.0 just keeps getting better.
I am always impressed that very little work needs to be done on the spun article that
was final.

What Makes Spin Rewriter 8.0 Really DIFFERENT?

Spin Rewriter 8.0 is different since its ENL Semantic Spinning
technology lets it examine the true meaning of your articles.

The issue is spinners do not understand.

What they produce reads like something you'd receive with a thesaurus
from a 2-year-old, since they WORK like a 2-year-old using a thesaurus.

They don't understand that a phrase such as 'book' can mean both
'novel' and 'make a reservation'. That is why don't make any sense.

Spin Rewriter 8.0 Delivers An Entirely

Spin Rewriter 8.0's got a massive — and growing — table of
synonyms.

But it goes.

It appears at the whole article. It does not only look words
up, but investigations them to understand the significance.

So Spin Rewriter 8.0 understands what you are trying to convey, and can rewrite it
intelligently.

It's called Emulated Natural Language.

And it's how Spin Rewriter 8.0 can provide countless human-quality articles time and time again.

Just imagine for a second, having the capability to create ten times the number of posts you can correct now.

Imagine having the ability to run more websites.

Imagine how a lot terms you are rank for and just how much traffic you can drive.

Imagine being able to take the brakes off. Having the capability to grow your business to the online powerhouse you have always wanted it to
be.

Spin Rewriter 8.0 has saved me hundreds, if not thousands of
hours. I have had articles and articles that had to be pushed and published to
thousands of places. With Spin Rewriter 8.0, with a few clicks,
I had been given thousands of special articles in a couple of minutes.
The time saved by using Spin Rewriter 8.0 was invaluable.

Many internet marketers tend to avoid using post spinners such as Spin Rewriter 8.0.
As they think that doing this will somehow impede their sites search engine positions.
This just is not true and im going to try and explain the reason why.

Previously article spinning tools use to spin posts in a really basic manner
and on occasion the article was not of great readable quality.
Search engines used to be at weeding out spam, a lot effective although complex like they are now.

The search engine algorithms are now more intelligent and read the text, videos, even photographs contained on a
web site. Google wants the best results with the content value to the hunt for by
a user.

So providing quality content is essential to gaining confidence
as an authority site on any specific subject with all the search engines.
This is only one of the variables Google considers when wanting to rank site higher in the serps.

Considering that the sport has changed with respect to how websites are ranked, the programmers of article
spinners like those at Spin Rewriter 8.0. Have had to generate pieces
of software that create articles which are readable and unique .

Using a thesaurus database that is massive synonyms are
used by the program in a variety of combinations.

In a couple of seconds you can spin 1 base post of 500 hundred words into a human and fully unique
readable article within two seconds. With this ability lets you
have different versions of a post describing the
same subject.

So you can use these posts to mass up your own small business website's material.

You can apply these articles to give quality backlinks.
Platforms using a connection back to your website, just
distributing these posts to on social media. Will go a very long
way to help your website appear in the search engines.

Utilizing Article Spinners Will Not Make Your Website Penalised

Don't listen to each of these myths when it comes to using
article spinners. All these pieces of software have adapted and advanced to
the search engines algorithms.

Therefore, if you are looking for a economical and
time efficient way to produce quality articles. The I would highly recommend you with an article spinning
service like Spin Rewriter 8.0.

With this tool inside your online marketing arsenal. You will have the ability to produce high content.
And in the long run become a power website which will
been observed in a favourable light from the various
search engines.

Spin Rewriter is THE tool that I use to generate hundreds of posts to my niche
sites and in addition, it helps me. It may create 500 unique, replicate scape passed and human readable content with in 45 seconds or
less. It is less costly than other article works and rewriters on Tablet, Telephone, Mac and PC.

In this dip review, I will be showing you all the advantages
that you will get with the program. In addition, I will show you
the whole process to make high quality 500 posts
in 45 seconds or less.

Internet marketing might be conceivably when attempting to
build an income for business or your products, one
of the paths to follow. Especially when you are up
along with businesses and goods that have already a
strong and recognised existence on the search
engines and are unfamiliar to the side.

How several of those recognised brands have achieved such a internet presence is via generating thousands upon thousands of post content which has been submitted carefully and often over quite a
few years to sites with a one way link back to their website.

Sure articles do not mean search engine positions and will require
a number of backlinks aiming to the content to make
any impression. Nonetheless without articles the juice from
such backlinks are going to waste and so having masses of niche content is necessary to keep your brand and company fresh in the notions of
their client.

Spin Rewriter 8.0 Will Help Fortify Internet Marketing Campaigns

Making a hefty number of content that are continuous is a real inconvenience when you don't have a line-up
of pockets or authors that you can employ decent content creators.
Even the run-of-the-mill content writing services that will
deliver articles at inexpensive prices will set you back.

These articles end up costing tens of thousands and
will develop when we are talking about needing to create hundreds
on a consistent basis. This choice is rather unmanageable for many small
businesses offering their services and products. Therefore
a economical alternative must be discovered!

1 such option is a post spinning service such as Spin Rewriter 8.0.
There are quite a couple of quality article spinners out there,
but the thing that actually makes Spin Rewriter 8.0 exceptional is the fact that it
is completely a web based service that does not need you to download and install software to use.

Meaning you can create articles using your tablet, smartphone, Windows or
Apple desktop PC and any other apparatus. When you've produced your market article you can then easily log
in to the Spin Rewriter 8.0 agency and also make thousands of exclusive
articles for your online promotions.

So in what way will Spin Rewriter 8.0 greatly
advance my online marketing promotions? Behind using article spinning
tools the actual strength is through the effortlessness and swiftness you may create thousands of posts that are distinctive
from just one article.

What is even more amazing is that this 1 article can be spun at word, sentence
or paragraph amount using the potent Spin Rewriter 8.0 algorithm that can assemble loads of articles which have over 90% uniqueness.
So there is not any risk of the content being marked by these search engines up and punish the search engine rankings of the articles.

You can start the process of devoting to numerous article and blogging platforms all
aiming back with market text links to your website once you possess these unique articles.
With any chance if your content is filled with concrete content, distribute and people will begin to obviously bookmark your articles around social media platforms providing publicity for your website.

Spin Rewriter Effective Article Spinning Service

Utilising a service like Spin Rewriter 8.0 will not cost as significant
as you may consider, in fact you are able to use the terrific article spinning service for below $75 each
year. That is less than the thousands you would generally be giving to create the
exact same quantity of content that is special.

If you're fascinated in significantly advancing your online advertising campaigns then equipping yourself with a mighty instrument like Spin Rewriter 8.0 is the
only wise thing to do. Additionally you may use the Spin Rewriter support for 5 days totally free so you can try out the item with no obligation to get a subscription.