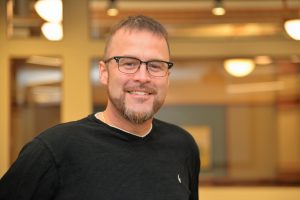 Patrick J. Murphy ('97) learned at a young age that knowledge is power and that one should not only be intrigued by big unanswered questions, but also be wary of big unquestioned answers. This orientation inspired a life-long passion for scholarship, exploration, travel, and more that aligned with his Morningside College experience.
He attended Morningside after moving to Iowa from Washington state. "I visited campus and recognized a passion for learning and a love of the institution among students and professors," said Murphy.
He recalls his experience as academically intense and socially-minded undergraduate education with strong roots in the traditional liberal arts.
Murphy majored in organizational psychology, which in the 1990s was a very rare major in undergraduate programs. Morningside College was one of only a handful of institutions in the country to offer one.
After graduating from Morningside in 1997 with a degree in organizational psychology and business administration, Murphy was admitted to the organizational and human factors psychology doctoral program at Wright State University in Dayton, Ohio and spent four months in Beijing, China as a foreign student. In 2000-2001 he was Organizational Development Specialist at Schneider Electric's US headquarters in Palatine, Illinois. Unable to resist his passion for scholarship, he returned to academia and finished his doctorate in 2004 in the College of Business at the University of Illinois-Chicago.
Murphy joined the faculty of the College of Business at DePaul University in 2003-2004. He was promoted to associate professor in 2010 and to full professor in 2013 – the youngest in the business school to achieve the rank. He has been the recipient of multiple DePaul teaching awards and has taught thousands of students and advised hundreds of entrepreneurial ventures. Based on original research, he authored a 300-page scholarly book with a colleague entitled Mutiny and Its Bounty. It examines the phenomenon of mutiny in today's entrepreneurial ventures by mining 500-year old logbooks and journals from seafaring ventures during the Age of Discovery. It was published by Yale University Press in 2013.
In 2016, Murphy was named as one of ChicagoInno's "50 on Fire" in the education category for his impact on the Chicago innovation economy. In 2017, Future Founders selected him as "Entrepreneurship Professor of the Year" from across eleven Illinois colleges and universities.
He has published over 25 peer-reviewed articles in top scholarly journals and he has lectured about entrepreneurship and related topics around the world. He serves as editor at the scholarly journal Management Decision and is President of the Board of Directors of the Chicago Cultural Alliance. He is former Chair of the Management History Division of the Academy of Management.
"The best part of being a Morningsider was the transformational quality of the undergraduate education I received here. It stuck with me. It is a foundation for almost everything I've done," said Murphy. "Very few people receive an undergraduate education that is so personalized. For example, one time I asked the President's office to fund my travel to a major research conference in St. Louis. I was not presenting there; I just wanted to go and observe. I was the only undergraduate student attendee. I roamed the conference by myself for four days and sat in research presentations for many hours. Morningside supported me when I made these kinds of unique requests for my own development. It meant a lot to me.
Whereas Murphy has not been back on campus in years, he keeps in touch with his professors and stays abreast of how Morningside is growing and changing. This fall he will be Morningside's Entrepreneur in Residence and is currently on campus.

The URI to TrackBack this entry is: http://wordpress.morningside.edu/alumninewsletter/2017/10/10/alumni-spotlight-patrick-murphy/trackback/