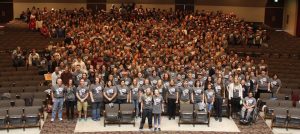 Approximately 825 Morningside College students, faculty and staff left the classroom to go "Into the Streets" for a morning of community service on Wednesday, Oct. 4.
Organized by Morningside's chapter of Omicron Delta Kappa (ODK), a national leadership honor society, Into the Streets gives student groups and teams an opportunity to volunteer at over 90 different locations within the Sioux City area.
Volunteers received their agency assignments at 8 a.m. in Eppley Auditorium, 3625 Garretson Ave. From 8:30 a.m. to noon, they will accomplish a variety of service work, such as cleaning, painting, gardening, helping elementary school students and more.
Morningside students Kelsey Brenner of Schaller, Iowa, and Karissa Heckens of Omaha, Neb., are coordinating the service project with a student committee that includes Sam Anderson of Sioux City; Rachael Arnts of Alta, Iowa; Emalee Barton of Elkhorn, Neb.; Lucas Farrington of Rockwell City, Iowa; Rylee Frake of Cedar Rapids, Iowa; Kyle Kommes of Le Mars, Iowa; Nicole Langbein of Sac City, Iowa; Sara Larson of Sioux City; Lauren Lehmkuhl of Wakefield, Neb.; Katy Miller of Sergeant Bluff, Iowa ; Jesse Nitzschke of Le Mars, Iowa; Lexa Rahn of Sioux Falls, S.D.;  Suzanne Ras of Bancroft, Neb.; Kailyn Robert of Osage City, Kan.; Ashton Schweers of Wayne, Neb.; and Nikki Yablonski of Omaha, Neb.
This is Omicron Delta Kappa's 11th year of organizing this event, which takes place each year during Homecoming week.

The URI to TrackBack this entry is: http://wordpress.morningside.edu/alumninewsletter/2017/10/05/morningside-community-service-day-into-the-streets/trackback/