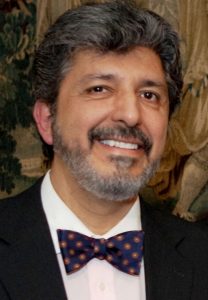 Lorenzo Sandoval, a playwright, stage and film actor, college professor and community leader from Des Moines, Iowa,  is in residence on campus at Morningside College as part of the Dimmitt Fellows program.
He is staying in the visiting faculty apartment in Dimmitt Hall. During the spring semester, Sandoval will teach classes, deliver guest lectures, direct performances of plays he has written and engage with the campus and Siouxland community.
Sandoval will be the first Dimmitt Fellow to reside on campus and interact with the campus community for an entire semester.
On Jan. 19, Sandoval presented "Growing Up Latino in Iowa" in the UPS Auditorium in Lincoln Center. His presentation included a wide range of experiences, from being the descendent of second generation immigrants to being a student at Morningside.
Sandoval was 24 when he moved from his home in Illinois to Iowa to attend Morningside College, and he believes in the arts and education that Iowa has to offer.
"Do not overlook the wonderful institutions of learning that we have here in Iowa… You can certainly go out in the great world, but you can truly bring the great world here to Iowa. Hone your artistic skills in Iowa."
While at Morningside, Sandoval will present two plays at the Klinger-Neal Theatre. The first, Thrice Told Tales (7 p.m. March 18 and 2 p.m. March 19), Sandoval's award-winning play about three generations of Romeos and Juliets interacting and learning from each other. He will also present Juanito and his Tales (7 p.m. April 7 and 8), Sandoval's original children's play based on Mexican folk tales.
Sandoval's fellowship is made possible by Morningside College, the Gilchrist Foundation, Humanities Iowa and the National Endowment for the Humanities.
For further information, to schedule an event or meet with Sandoval, contact Dr. Marty Knepper at knepper@morningside.edu or Laura Florio at floriol@morningside.edu.

The URI to TrackBack this entry is: http://wordpress.morningside.edu/alumninewsletter/2017/01/24/whats-happening-on-campus-lorenzo-sandoval-dimmilt-fellow/trackback/