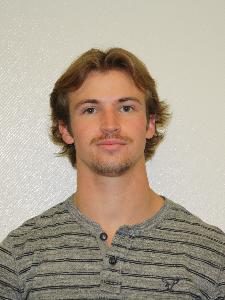 Nicholas Yaneff is a senior biology major and Spanish minor from Sioux City, Iowa. He believes that being a Morningside Mustang means having the ability to take an everyday opportunity and turn it into an extraordinary one.
Yaneff chose Morningside for its study abroad program. He spent the spring of 2016 in Berlin, Germany, and will spend this spring semester in Alicante, Spain.
Initially, Yaneff found it challenging to meet people. Morningside is a widely athletic campus and he wasn't a part of a sports team. However, he became involved in the student alumni association, residence life and a men's Bible study on campus, and he made a lot of friends.
These days Yaneff spends most of his time either in the café or in Dimmitt with friends.
"I have made more friends than when I started not knowing anyone. Learning a variety of lessons has been increasingly possible at Morningside and abroad."
Yaneff believes that all of his college activities have impacted his life but found his men's Bible study to be his most enjoyable activity.
"All have helped me become a more effective leader and communicator with a variety of people. It's [Men's Bible Study] one I started with some friends that involves guys from every group on campus, athletic or not. All have helped me become a more effective leader and communicator with a variety of people."
Yaneff finds college to be different than he expected because of the relationships he has built.
"The relationships you build with people, both students and professors, can be much stronger than you expect. I did not expect this because I had grown up with the same people my whole life and yet feel closer to those I have met in college."
Yaneff initially wanted to become a veterinarian. However, that changed sophomore year when he decided he would rather go into law enforcement or the military.
He finds ecological subjects and outdoor research to be the most enjoyable aspect of his major.
"I don't expect to do anything with my major until later in life, when I will hopefully become a park ranger at a National Park."
Yaneff describes his first  study abroad experience in  Berlin, Germany, as overall a great experience.
"I went in with no German language background except self-education, but came back being able to converse at a decent level with the Germans on campus. I spent nearly every weekend in a different town or country and learned many life lessons along the way. The seemingly minor cultural differences in Germany helped me mature in a variety of ways as well."
He is currently in Alicante, Spain, for his second study abroad and describes his feelings as completely different than how he felt in Berlin.
"The language immersion here is intense, but little by little, I am improving. My host family (a retired mother and her working daughter) provides my daily needs and is instrumental in my language comprehension. Although I do not intend to travel as much during this study abroad experience, I believe the increased cultural and lingual immersion will do wonders for me, as Berlin did."
After graduation Yaneff hopes to continue his travels. He has  applied for some naturalist and law enforcement positions.
"If all else fails, which part of me hopes it does, I will hopefully get an odd job to do for a year or two and then switch – and continue to do so to gain 'life experiences.' This will hopefully include moving to new and exotic places."
He eventually might like to work at an embassy overseas.

The URI to TrackBack this entry is: http://wordpress.morningside.edu/alumninewsletter/2017/01/24/a-look-inside-morningside-college-student-spotlight-11/trackback/