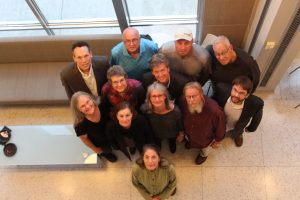 The art department has had an exciting fall season. Starting in the spring and working over the summer, the department moved equipment into Longfellow School and set up photo studios, which have been used for class projects, such as a practice wedding photo session. This created some space for faculty development, and the department is working to complete a product photo studio for students to document their art to help build portfolios.
Classes started with the energy and exploration of a new school year, including a new class in Game Design. Students in Art 345 Relief Printmaking will enter a national print trade. Graphic Design students are active members in the American Institute of Graphic Arts and will travel to Omaha for a Meet the Pros conference in February 2017.
Photography students and professor Dolie Thompson traveled to Seattle to attend the Society for Photographic Educators conference and found opportunities to visit the Northwest rainforests, cameras in hand.
The opening exhibit in the Eppley Art Gallery, "War of Words,"  was part of the collection of World War II posters from the State Historical Museum of Iowa. The exhibit featured 30 original posters, which are as vibrant and powerful today as ever. John Fender, graphic design professor at Drake University, presented his research on the posters on Thursday, Sept. 15. "These posters serve as an outline to the social changes happening at the time," he said.
This was followed by the art faculty exhibit, in which the 12 artists who teach at Morningside presented their unique work. Faculty are Paul Adamson, Jim Bisenius, John Bowitz, Karen Emenhiser-Harris, Amy Foltz, John Kolbo, Terri McGaffin, Steve Paulson, Shannon Sargent, Dolie Thompson, Jodi Whitlock and Rich Yates.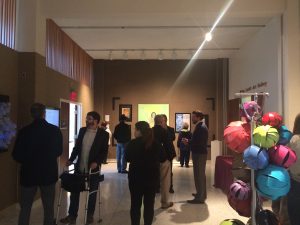 "Resonant Illumination," created by Yates and shown below, is a wood structure holding 50 glass bottles, some etched, through which light emanates. The source of the pulsing light, deep within the shape of the bottle, responds to sounds in its vicinity, inviting viewers to become participants, uniting experiences of sound and motion, light and color.
Arts administration major Margarita Ruelas is presenting her senior art show at the Whispering Creek Active Retirement Community. A reception will be held at 10:30 AM on Friday, December 2.
The department expects 14 sophomore art majors to present their art for the Sophomore Reviews in January and is excited to be part of the artistic and academic growth of our students, and look forward to the year ahead.

The URI to TrackBack this entry is: http://wordpress.morningside.edu/alumninewsletter/2016/11/17/department-spotlight-art/trackback/