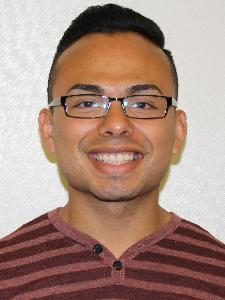 Jesus Cendejas is a 2013 graduate with a Bachelor of Arts in religious studies. Cendejas, originally from California, says that it was a step of faith coming to Morningside.
"In all respects, spiritually and in the entirety of that journey, I trusted that this is where I was being led. I had no family or friends out here, so everything was new and didn't know what to expect."
Cendejas was a resident assistant, a member of Campus Ministries, Oasis and the Student Alumni Association.
"I became very involved from the moment I arrived on campus with many organizations," he said.
He believes that religious studies is more than a spiritual or academic practice.
"It leads you to understand the world you live in. Part of what I did right after graduation and continue to do today directly and indirectly relates to my major. I served at my church, Calvary Chapel, for a while and soon after became ordained as a staff pastor in April 2014."
At that time Cendejas was offered a job at a local organization called the Mary J. Treglia Community House; he previously volunteered there for his service learning class.
The Mary J. Treglia Community House focuses on helping the Siouxland immigrant population assimilate into the community, whether it is through English as a second language (ESL) classes, translation and interpreting services, or legal services, among many other things.
"This part is how my degree was used indirectly, since we dealt with many different cultures," Cendejas said.
In the summer of 2015, Cendejas joined the staff of Morningside College. He is now the international student advisor, where he mentors and aids international students throughout their college careers.
"I am a full-time staff pastor at church and part-time advisor at Morningside College," he said.
Cendejas believes that the community at Morningside is unforgettable.
"It helped shape and mold me into the person I am today," he said. "It was a good place, it's been almost six years since I graduated and I'm still here. That has to say a lot of how much I appreciate the college."
Cendejas believes that keeping a connection with the college is important because it means helping with the future of the college.
"Those that cared for you during your college career were made up of not just faculty, but those who chose to stay connected, the alumni," he said. "They all invested in you in one way or another and helped shape you into the person you are today. By staying connected, one is given many opportunities to do the same and invest in others."

The URI to TrackBack this entry is: http://wordpress.morningside.edu/alumninewsletter/2016/11/17/check-it-out-alumni-spotlight-15/trackback/