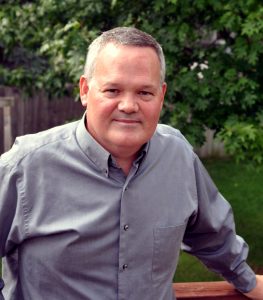 Bill Zahren, a 1986 graduate of Morningside College, majored in mass communication with a double minor in English & history. Zahren's new novel Paper Trail was released by Mill City Press in late September. Paper Trail continues with the story of the lead characters from Zahren's debut novel, Officer Involved: Assistant Woodbury County Attorney Hillary Reed and Sioux City Sentinel-Leader reporter Tom Kingman. The fictional Kingman is a Morningside College alumnus.
Officer Involved was published in the fall of 2015. The characters Kingman and Reed were inspired by Zahren's time as a journalist for the Sioux City Journal from 1988 to 1995.
 "It's fun to be a sort of super-reporter in print with Tom Kingman," Zahren said. "Some of the stuff he does, real reporters probably wouldn't or couldn't do for various reasons. But some of the stuff that ran through my head — but didn't come out of my mouth — during my years as a reporter continues to show up in my books."
Both of Zahren's novels were influenced by his time at Gateway Inc. from 1995 to 1999.
"Working at Gateway was one of the best jobs I've ever had. I still feel camaraderie for my former colleagues. In fact, the book is dedicated to all my co-workers at Gateway. I hope they enjoy the nuances in the book that were inspired by the big cow-spotted building in North Sioux."
In Paper Trail, characters Kingman and Reed stay a week in Kingman's hometown of Council Bluffs so he can go undercover at Cryptotech, a technology-oriented corporation in Omaha.
Another focus of Zahren's novel is faith.
 "Hillary is a serious Christian and Tom is a serious skeptic, so their exploration of each other's beliefs or lack thereof will continue to be an element in my books," Zahren said.
Zahren's goal is to make Tom Kingman Morningside's most famous fictional alumnus. He has two more manuscripts featuring Kingman and Reed in varying stages of editing with plans for a fifth. He hopes to publish the next book, Avenging Angel, set back in Siouxland, in the fall of 2017, followed by Tipsy House, set in Okoboji, a year later.
Signed copies of Paper Trail are available at Sioux City Gifts, 1922 Pierce St., Sioux City. Both Paper Trail and Officer Involved are available on Amazon.com, on BN.com,  or through any Barnes and Noble bookstore.
Learn more at billzahren.com.

The URI to TrackBack this entry is: http://wordpress.morningside.edu/alumninewsletter/2016/10/30/check-it-ot-alumni-spotlight/trackback/